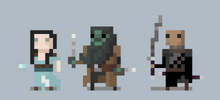 The Pirate Wars were a series of military conflicts Stormgate had with the Pirate Lords of the Ardent Sea in the years 6775-6777. Stormgate's military fended off invasion by sea, but it was a particularly bloody conflict with a lot of civilian casualties.
This was the conflict where Commissar Tarkus rose to prominence in the Stormgate Military.
The Pirate Lords are:
Captain Neidyra "the Banshee" Thryn, Lord of the Revenant Vow    
Captain Rackham "Shark Eyes" Merrows, Lord of the Brineblooded
Captain Ignacio "The Reaper" Navarro, Lord of the Iron Tide
Community content is available under
CC-BY-SA
unless otherwise noted.